How To Design With Ornamental Grasses
Ornamental grasses bring late summer gardens to life with bloom stalks of white or pink finely textured foliage swishing in the summer breeze. Here are some tips on how to design with Ornamental Grasses.   Ornamental grasses grow best in full sun, use very little water and are low maintenance and easy to grow! These grasses will compliment any garden setting.  Ornamental Grasses can be used in foundation plantings, borders & screens.   You can create a naturalistic prairie-style perennial bed with them as well.
Foundation Plantings
Used in foundation plantings, ornamental grasses create a much needed texture change from the typical holly/azalea/boxwood line up. Hameln dwarf fountain grass has foxtail shaped blooms.  It is great used as an accent in foundation plantings. Use them in big, deep beds of any coarse large leafed shrubs to add a second layer of interest.  Sometimes a group of three grasses will work in larger corner plantings. Muhly grass with pink "cotton candy" like blooms will work in the same situation. Pampas and Maiden grass generally get too large for foundation plants, and swallow a smaller areas and walkways.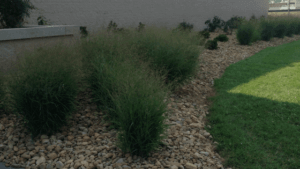 Borders & Screens
Larger growing ornamental grasses make wonderful screens and living fences. Maiden and Pampas grass can grow 6-8' tall and wide. Planting several in a group they will block an unsightly view and create privacy. A few Maiden or Pampas gives a tropical feel to swimming pool areas as they create privacy from neighbors' prying eyes. Have a large bed that needs definition? Maiden grass will add interest and sound as the wind blows its leaves.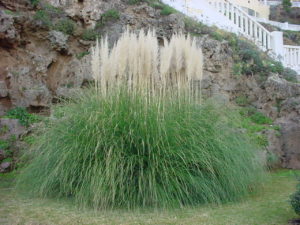 In Perennial Beds
Adding ornamental grasses to your perennial garden creates a stylized version of the Midwest Prairie. Those who love to plant perennials in drifts, rather than rows, will appreciate "threading" these undulating waves of grasses through groups of blooming coneflower, yarrow, coreopsis, sage, and sedums. The effect is breathtaking and even people who like tidy, formal plantings are drawn to this calm style that is full of surprises.  You will enjoy the wildlife this type of garden attracts as well.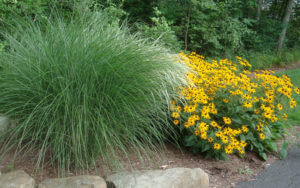 Don't let your landscape suffer from the doldrums from August to October. Add some ornamental grasses to the landscape! Pick up a few companion plants to go with them and see how the garden comes back to life.