Experienced Professionals
A community-minded landscaping business servicing Oak Ridge, Knoxville, & the surrounding areas. If you are looking to create the ideal landscape or waterscape, contact our experts today!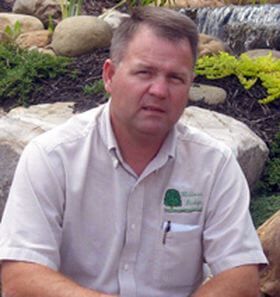 Gene Marlow
Landscape Estimator & President
Gene graduated from Clinton High School in 1985 and began working part-time for Willow Ridge while also attending the University of Tennessee majoring in Wildlife and Fisheries. He began working full-time with Willow Ridge in 1989 as a landscaper. In 1993 he was promoted to Garden Center Manager, became an active partner in 1997, and then became Manager of the Landscape Division and President of Willow Ridge in 1999.
Through working his way from landscaper to President during his twenty years with Willow Ridge he has become extremely knowledgeable in all aspects of the garden center and landscaping. He has been on many landscape and garden center tours from London, England to Victoria, British Columbia, and various areas in between, gaining knowledge and experience from some of the best companies in the business.
Gene is constantly seeking new ideas and innovative methods to provide Willow Ridge customers the most creative and highest quality landscaping available in Tennessee.
Robert Smiddy
Landscape Designer & Horticulturist
Robert has been with Willow Ridge since 1999. He graduated from Oak Ridge High School in 1980 and spent many successful years managing restaurants. Robert returned to the University of Tennessee & completed his degree in Ornamental Horticulture and Landscape Design with a minor in Business management. He likes to approach landscape designs with a focus on natural appearance and challenges himself to emphasize winter interest within his designs.
He takes a particular interest in use of perennials to provide long seasons of color as well as the use of colorful foliage and unique forms of plants to create special interest within the landscape.
The use of water gardens to add bio-diversity, garden structures and art, as well as the use of outdoor rooms are all part of the complete approach to master planning that Robert uses to create customized designs.
His garden designs have won the "Best of Show" ribbon from The Dogwood Arts Festival House & Garden show in 2011 & 2012 for a total of 5 times over the last 11 years. His residential designs have been recognized with community awards and he has been featured in a Public Broadcasting television series for one of the large residential gardens he has designed. In March of 2012, "Mountain High" was a feature garden in Southern Living Magazine and Robert was the key designer in this estate sized garden.
As a Certified Aquascape Contractor, Robert was a participant in the "World's most Extreme Pond Build" in the water garden capital of the world, St. Charles Illinois. This 250'x90'pond holds 300,000 gallons of water and pumps 150,000 gallons per hour with multiple waterfalls from 2′ to 10′ high and has a natural wetland filtration area.
Robert has been featured in a Nashville Public Television episode hosting a tour of one of the larger estate gardens he has been instrumental in planning and implementing and he does Garden Club talks several time a year. Robert enjoys volunteering in many civic projects such as habitat for humanity or Operation In As Much and has been part of a mission team to El Ayudante in Leon Nicaragua.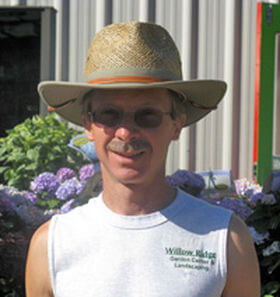 Greg T. Steele
Garden Center Retail Manager
Greg came to Willow Ridge in March of 1996 after 15 years of experience in his families restaurant and nightclub business. Greg is a graduate of Bearden High School where he emphasized study in their four year Ornamental Horticulture program.
He served as the President and Sentinel of the Bearden Chapter of the FFA (Future Farmers of America) and he was the recipient of the DeKalb Campus Beautification Award. Greg was also the recipient of the 1982 United States Achievement Academy National Award in Agriculture.
He spent one year working at Associated Nursery Systems and he continues to attend seminars and short courses through professional organizations like the American Nursery and Landscape Association in order to stay current on new technologies and trends in the Garden Center & Greenhouse Industry. His many responsibilities include Customer service, Staff management, Materials acquisitions, Facility's capital improvements, Deliveries management, Mass-media Advertising, Equipment maintenance and Landscape materials coordination.
Let's Get Started
Ready to start a project? Upload your photos and we'll get in touch with a scheduled consultation.