Pond Contractor Service
Here at Willow Ridge Garden Center & Landscaping we have proudly been building new ponds and water features throughout the greater Knoxville and Oak Ridge area for decades
Pond Contractor | Why Build A Pond or Water Feature?
When it comes to building a pond or water feature, our clients decide to put one in for a multitude of reasons:
They want to bring the sound of running water to their home
This helps break up the monotony of going to work and then coming home and sitting in front of a screen
Family time is starting to slip and this brings everyone back together
Whatever your reason is for wanting a new pond, we can help!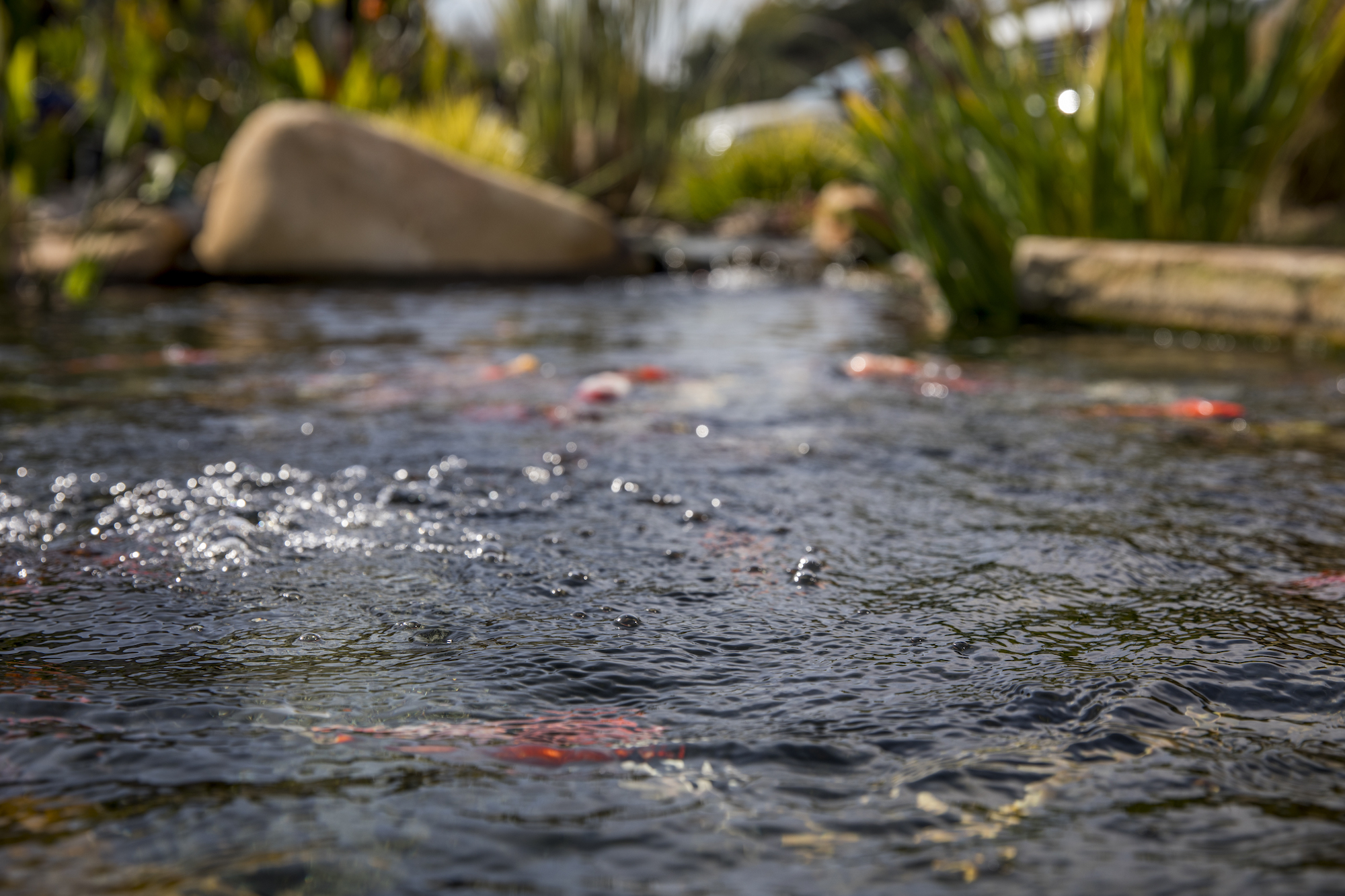 How Does A Pond Contractor keep an Ecosystem Functioning?
An ecosystem is the interaction of plants and animals with one another in the sharing of available resources and restraints in a defined area. An ecosystem pond works with Mother Nature to provide food, shelter and safety to the wildlife around it. There are a few key components that make the ecosystem a living system:
Looking on the far right side of the diagram, you can see what is called the BIOFALLS Filter. Water flows through this filter and out into the pond. This filter is covered to make it look like a natural waterfall spilling into the water basin. We have many different types of falls including streams and classic waterfalls.
Plants are a very crucial part in the ecosystem of a pond. Clients that opt to not have plants put in the pond generally have to deal with a lot of green algae. The reason for this is because aquatic plants will use the nutrients that algae thrive on to grow themselves. These organisms come in a variety of types. Plants also help increase oxygen in the water, which helps to keep the pond aerated for any koi fish.
Fish also play a very crucial part in the ecosystem. From Koi Fish to Shubunkin and other pond fish, they help to keep the mosquito population down. From an aesthetics stand point they're very important in a pond. There's a reason they're called Koi Ponds!
Adding gravel to a pond helps by nurturing the beneficial bacteria the wildlife in the pond use. It also keeps the rubber liner safe from UV rays and creates a more natural look for the pond.
The Skimmer filter unit is the second form of filtration in the pond ecosystem. It contains a plastic basket for easy removal of larger debris. This is also where the pump is stored that circulates the water back to the BIOFALLS Filter.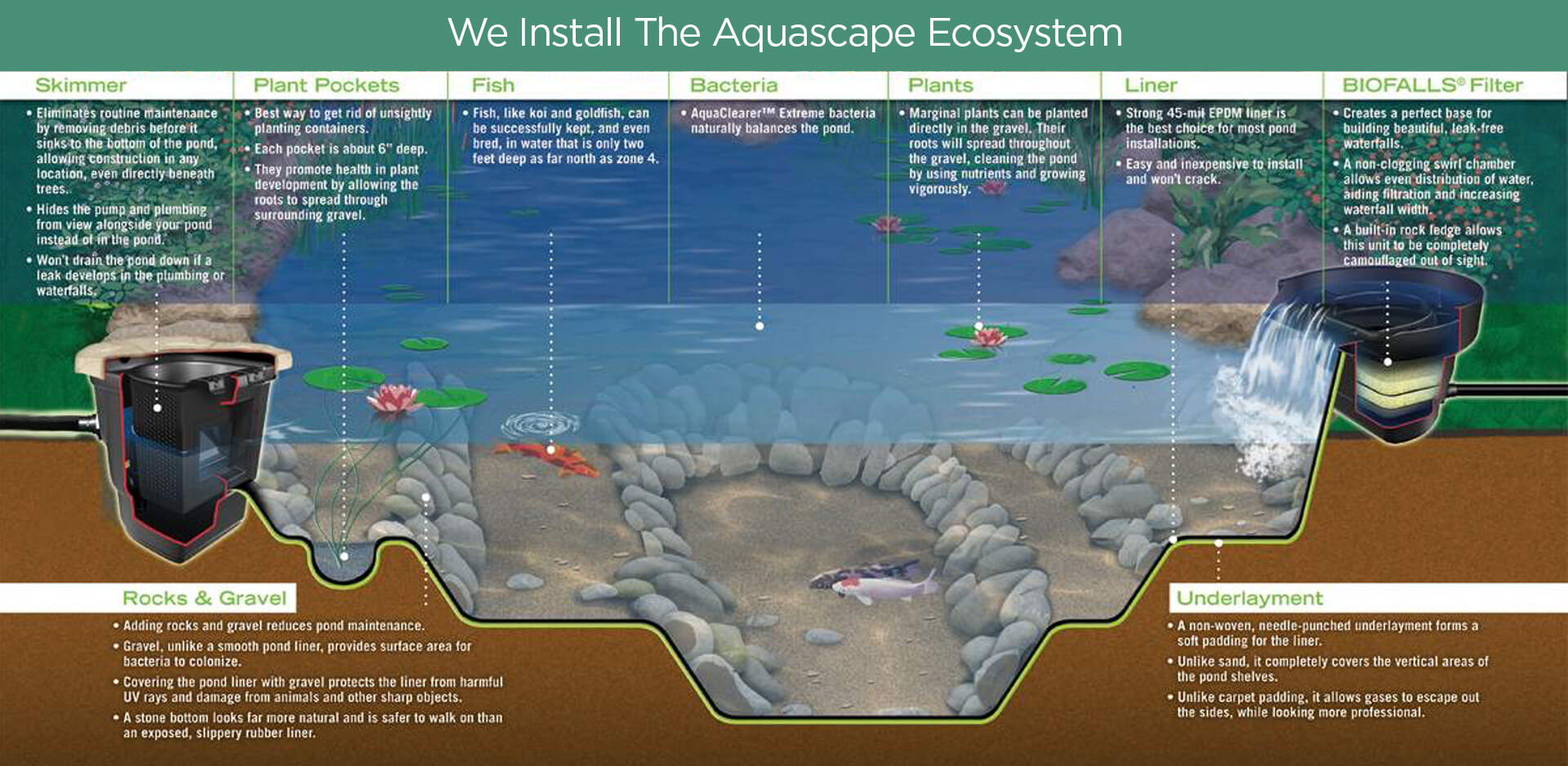 Hire a Master Certified Aquascape Contractor
There is nothing more relaxing than a Koi or fish pond. Ponds are often the difference between an average and truly amazing landscape. Willow Ridge Garden Center & Landscaping is a Master Certified Contractor of Aquascapes Inc., the largest water gardening company in the world.
We specialize in creating naturalistic ponds, streams and waterfalls. Water gardens are the perfect cure for a stressful lifestyle, and they give you your own paradise right in your own backyard.
Cost
We will perform the entire installation of your water feature from small, medium to large ponds. Small ponds (6' x 8') range from $12,000 to $15,000, while the medium size ponds range from $15,000 to $20,000. Custom built larger ponds and recreation ponds range from $20,000 and up.
Are you wondering if a pond is right for your backyard landscape? Contact Willow Ridge today, and we'll be happy to answer any pond questions you might have.
Landscaping Services | Some of Our Work
The experts at Willow Ridge Garden Center & Landscaping provide you with beautiful hardscape & landscaping designs, unique water features, season plants for decoration, & so much more! We have provided a photo gallery that displays some of our work, & a video gallery that features how to videos!