Holiday Tweets for the Birds
In December, we gardeners enjoy sharing the season's warmth with our extended families – the birds in our own backyard! Make your own Holiday Tweets, irresistible outdoor edible tree ornaments to feed your feathered friends.
All the edible ornaments we will be talking about make use of ingredients available at supermarkets. Keep in mind that birds also need water in the Winter as well as Summer, so a warm birdbath would be nice accompaniment to the Holiday Tweets you provide.
Orange & grapefruit cups: Halve the citrus, eat the fruit for your health, but be careful to keep skin cups intact. Poke 3 equally spaced holes around the edge of the cup & tie a string through each hole for hanging. Allow cup to dry overnight & then fill each one with sunflower seeds, raisins, millet or peanuts. Hang in your favorite bird viewing tree.
Dried Flower Bundles: Harvest seed heads from your perennials & annuals (Coneflowers, zinnias & black eyed susan for example). Bundle them by tying with rubber band or string then hang upside down in a cool dry place. Once dried, tuck or tie the bundle & hang it in your "birdtree".
Pinecone Feeder: Ingredients: 1 cup suet, 1 cup peanut butter, 3 cups yellow cornmeal, several large pinecones, string, small amount of mixed bird seed. In a saucepan, render (melt) suet over medium heat. Add peanut butter, stir till melted & blend with suet. Remove from heat & stir in cornmeal, blending into a dough like consistency. Pack mixture into opening in pinecone. Tie string around each pinecone & roll cone in birdseed. Hang outside in that favorite tree.
Bagel Wreaths: You'll need 5 bagels, halved. Peanut butter, wild mix birdseed, florist wire for hanging, lastly, narrow ribbon. Smear peanut butter on both sides of the bagel, dip in bird seed. Thread wire through bagel center and twist. The free end of the wire should be long enough to make a hook for hanging. Tie a bow around the wire at top of bagel. Hang on bird tree.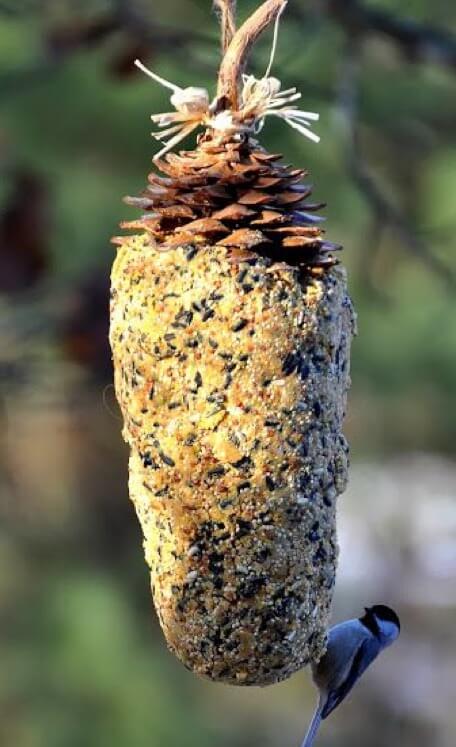 These bird "tweets" are a fun family project. Bird watching is a special pastime that will help connect children to the wildlife that visit our backyards. Another idea for birding is repurposing your cut Christmas tree by placing it in the garden for the winter and tie all of the treats onto it. When the treats are gone, continue to feed your new feathered friends with Black oil Sunflower seeds in your regular feeder.