Repetition Creates Harmony
Does your garden need some help because it looks a bit chaotic?    Were the plants beautiful and hard to resist at the garden center?  Have you purchased and planted "one of this and one of that"?  This garden has no unifying design and lacks harmony!  Don't despair read on and learn how Repetition Creates Harmony!
One way to pull a design together is through repetition.  Not by simply repeating a specific plant over and over, but by using subtle color "echoes", textures and forms multiple times.
Color
The easiest way to create harmony is by repeating a color throughout the landscape.  Instead of choosing the obvious like a flower color to repeat, look for the color in foliage, stems or berries. The red flowers of Camellia could be repeated with the red new growth of a Nandina.  You could use the stems of Red twig Dogwood or Coral Bark Maple, or even Euphorbia to repeat the color.  Repeating these unexpected sources of color results in a better flow and sense of harmony.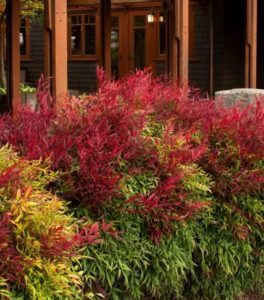 Form
Like choosing color, the idea of repeating form goes farther than using a specific plant over and over. Instead use a combination of different plants with the same shape. If using an upright, arching ornamental grass, why not repeat the look with other grass like perennials.  Such as flowering Crocosmia and Siberian Iris, or the bolder foliage of the arching Elephant Ears. Formal round-shapes are easy to find in many varieties of dwarf conifers and Japanese Hollies.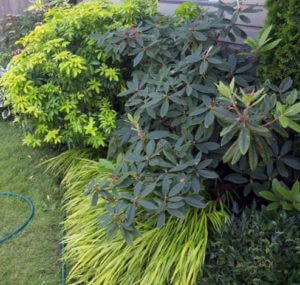 Texture
Texture is another element that can be repeated throughout the garden.  The large bold textured leaves of Hosta could be echoed with the bold foliage of Caladiums and Heuchera.   The large heavily textured leaves of Oakleaf Hydrangea and many viburnums  can create harmony when used throughout the garden. Pair bold textures with the finer textured leaves of a Nandina, Grass or well-chosen Conifer.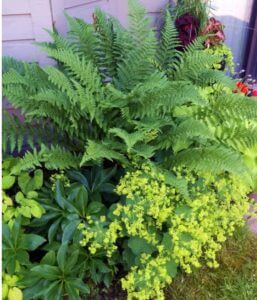 Learn to bring out and repeat some of your garden's more unusual features and your garden will visually flow together. As the seasons change, different elements will be seen.  Doing this gives the garden four season interest and harmony.
Read this blog on Creating A Rock Garden to get another great design idea.